Color Blindness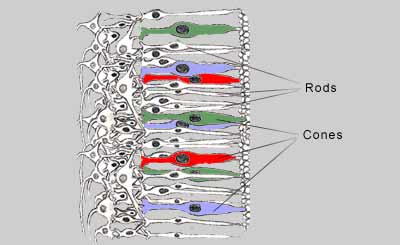 Each cone interprets only one color-red, green or blue.
Overview
Color blindness, also known as color vision deficiency, is the inability to distinguish colors and shades or to recognize them at all. It occurs when the color-sensing cones of the retina are absent or do not function properly.
About 8 percent of males and 1 percent of females are color-blind to some degree. Most color-blind people have difficulty in distinguishing among various shades of the same color or seeing some colors as brightly as others; the inability to distinguish any colors at all and see the world in black-and-white is rare.
Most color blindness is inherited and present at birth. But acquired color blindness can result from cataracts, retinal or optical nerve disease, use of certain medications or simply the normal aging process -- as we age, the normally clear lens begins to darken, making it harder to differentiate one dark color from another.
Normally, the pigments of each cone correspond to one of the primary colors of light – red, blue and green. In color blindness, there is a broad range of variances in these cones, including unbalanced proportions of cones for each color, absence of cones for one or more colors, and malfunction of cones for one or more colors. If no functioning cones are present, the rods take over in sensing lightness and darkness that enhance peripheral vision and vision in dim light.
Symptoms
While people with color blindness may have trouble distinguishing any or various colors or shades, the most common inherited form is "red/green" color blindness, in which there are problems seeing shades of red or green. For instance, red might appear as yellow or invisible or that pastel shades of yellow and green are indistinguishable. Another common form is blue/yellow color blindness.
Prevention
Color blindness is usually detected during a routine eye exam. Children should be tested for color blindness beginning at age 4. It cannot be prevented, but poses no threat to overall health. Although it may be inconvenience to some people, it presents no handicap on everyday life.
Treatment
While color blindness cannot be cured, there are many methods of coping with and compensating for the difficulties it presents, such as:
Tinted contact lenses can make some colors appear dimmer or brighter, and may help some with certain color vision deficiencies. Some color-blind people claim that wearing a lens in one eye helps their vision and functioning, although there is no evidence indicating that the lenses actually allow them to see more colors. The lenses may blur vision and distort depth perception, creating potentially dangerous situations.
Electronic Eyes are hand-held devices that identify colors. In such devices, color sensors activate an audio synthesizer that speaks the color aloud. The sensors, however, cannot read text.
If your child is color-blind, you can make modifications to help him/her identify colors. This includes activities such as labeling clothing, accessories and other items to help with coordination, and teaching how to recognize brightness and location of green, yellow and red positions on traffic lights and the meaning of signs by shape. You may also have to make adjustments in reading materials at school. Be on alert for books that use colored print and colored backgrounds and inform teachers that color-oriented and color-coded school assignments are not appropriate for your child.