Computer Vision Syndrome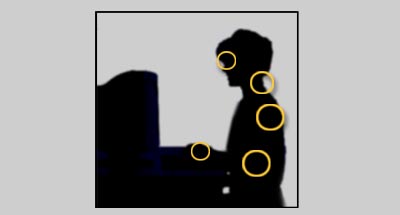 Improper positioning of wrists, elbows, shoulders, back, neck and eyes can cause discomfort.
Overview
Computer Vision Syndrome (CVS) refers to a group of vision-related problems and other symptoms that result from prolonged computer use. The American Optometric Association estimates that approximately 75 percent of regular computer users have CVS – as many as 60 million people, with about 1 million new cases each year.
Although CVS can result from using video games, multimedia entertainment devices, televisions or other electronic devices with a display monitor, visual symptoms ranging from eye strain and headaches to blurred vision and dry eye are more likely to occur from using a personal computer because of the letters on the screen. They are formed by tiny dots called pixels rather than a solid image and to keep these letters in focus, the eye must work harder.
Symptoms
Operating a computer for as little as 2-3 hours per day increases your risk of CVS symptoms, which include:
Blurred near vision
Difficulty in adjusting focus at different distances, such as near to far and back near again
Eye strain, soreness or irritation
Dry or red eyes
Headaches, which typically disappear after periods of rest
Irritation and discomfort while wearing contact lenses
Soreness or discomfort in the neck, shoulders, back, forearms, wrists or hands
Besides strain, some of these symptoms result from ultraviolet radiation from the computer screen, which suppresses blinking. When blinking slows, lubrication from tears decreases and results in eye irritation, dryness, redness and other symptoms.
Prevention
Perhaps the easiest preventative measure is to take frequent breaks from continuous computer use – many experts recommend 10 minutes for each hour of use. You should also adjust your work station to minimize glare and maximize visual and physical comfort. This includes moving your chair, monitor and other items so the screen is at least 20 inches from your eyes, with its center about 6 inches below your eyes. The screen should be directly in front of you, not to the side or at an angle.
Meanwhile, to minimize the non-visual symptoms, hands and wrists should be about waist height while on the keyboard and forearms should be at a 90-degree angle to your body, parallel to the floor.
Eyewear plays a role in preventing and treating CVS. Make sure glasses and contact lenses are the correct prescription and designed for working at a computer. If you are presbyopic, "progressive" lenses can be tailor-made for computer users. Meanwhile, those who wear bifocals may find themselves keeping their head in an uncomfortable position, adding to problems.
When buying eyewear, ask about protective UV and anti-glare coatings to help to reduce these problems. You can also place filters with UV and glare protection on your monitor or investigate buying a flat "plasma" monitor, which doesn't emit UV rays.
Treatment
Besides adjusting your work station and ensuring eyewear is suited for computer use, make a conscious effort to blink frequently and use artificial tears as recommended by your eyecare provider. One of the biggest complaints of patients with CVS is dry, irritated, red eyes – resulting from infrequent blinking and lower tear lubrication.
If you work under fluorescent lights, you may consider switching to incandescent bulbs. Some research indicates that fluorescent light can exacerbate eyestrain, headaches and other CVS symptoms; while they appear to be "on" constantly, fluorescents actually flicker about 60 times per second, which can fatigue the eye.