Optic Nerve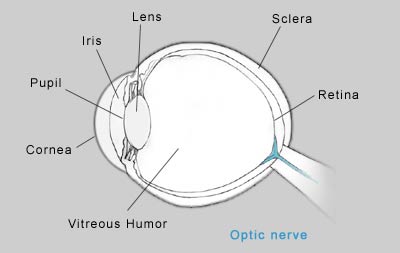 Electrical impulses are sent from the retina, through the optic nerve, and to the brain.
Nerve fibers connected to the rods and cones come together to form a bundle called the optic nerve. The optic nerve transmits electrical impulses from the retina to the brain.
The images "projected" on the retina are actually upside down, and are communicated to the brain this way. Through a complex process, the brain interprets the images right side up.
Sources
Cassel, G. Billig. The Eye Book: A Complete Guide to Eye Disorders and Health. Baltimore, MA: Johns Hopkins University Press, 1988.
Collins, J.F. Your Eyes: An Owner's Guide. Englewood Cliffs, NJ: Prentice Hall, 1995.
D'Alonzo, T.L. Your Eyes: A Comprehensive Look at the Understanding and Treatment of Vision Problems. Clifton Heights, PA: Avanti Publishing, 1991.
Eden, J. The Physician's Guide to Cataracts, Glaucoma, and Other Eye Problems. New York, NY: Consumer Reports Books, A Division of Consumers Union Yonkers, 1992.
Schuman, B.N. The Human Eye. New York, NY: Atheneum, 1986.
Adler, R., Adler, I. Your Eyes. New York, NY: The John Day Company, 1992.
Begbie, G.H. Seeing and the Eye: an Introduction to Vision. Garden City, NY: National History Press, 1996.
Cohen, N.S. Out of Sight Into Vision: There is More to Good Vision Than Reading the Fine Print. Toronto, Canada: Collier Macmillan Canada, 1997.
Kwiko, M.L. Eyes. Toronto, Canada: Key Porter Books, 1994.
Rainwater, J. Vision: How, Why, and What We See. New York, NY: Golden Press, 1992.