Glasses
Eyeglasses can correct numerous refraction problems. The most common are nearsightedness, farsightedness, astigmatism and presbyopia.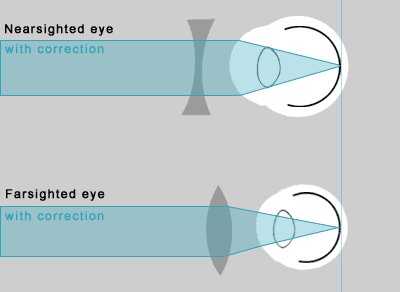 Concave and convex lenses compensate for defects in the eye, bending light rays to place them precisely on the retin and correcting vison.
A concave lens is thinner in the center and thicker on the edges. It bends light so that it converges further back in the eye, reaching the retina and correcting nearsightedness. A convex lens is thicker in the center and thinner on the edges, opposite from a concave lens. It bends light to converge further forward in the eye, landing on the retina and correcting farsightedness. Concave and convex lenses can be used separately and in combination to correct a variety of vision problems.
Lens varieties include:
Single-vision lenses - Single-vision lenses have the same focusing power over the surface of the whole lens. They may be prescribed for distance, near or reading-only vision.
Bifocals - Bifocals meet dual vision needs. The lenses are sectioned into two or three parts that correct vision at different distances. The upper part generally has the power you need to see in the distance (or has no correction), while the bottom portion has the strength you need to read. The line between the sections of the lens bothers some people, as objects appear to jump when eyes cross the line.

Bifocals provide near vision correction, and may alo provid distance correction in the upper portion.
Trifocals - Trifocals meet vision needs at three distances. Similar to bifocals on the top and bottom, there is a middle section designed for vision just beyond reading distance.

Trifocals correct vision at three times the distances.
Progressives - These are similar to bifocals and trifocals but the variance in the lenses is more gradual, correcting vision at every distance and eliminating visible lines

Progressive lenses correct at multiple distances and provide a gradual transition instead of visable lines and abrupt shifts. Some distortion may be noticed in the lower corners.
Choosing Lens Materials
Lenses are made from several materials. There are a great many lens formulas and coatings with different performance characteristics.
Glass - Original material used for glasses, these lenses are made mainly of sand (silicon dioxide) plus various elements (such as titanium dioxide for thinness). Glass lenses are long lasting and naturally scratch-resistant. They are heavy and breakable but can be treated for shock resistance.
Standard plastic - Developed in the 1960s, plastic lenses are made of a hard resin that is light and impact resistant. It is thick and easily scratched unless treated with a protective coating.
Mid-index plastic - First used in the early 1990s, higher index refraction means this material reduces lens thickness without compromising optical performance. It is recommended for light to moderate prescriptions. A protective treatment can reduce scratches.
High-index plastic - The third wave of plastic materials provides an even higher index of refraction. It is ideal for those with moderate to severe correction needs because higher power prescriptions can be made lighter and thinner. A protective treatment can reduce scratches.
Polycarbonate - The newest lens material is an acrylic-like resin that is used for airplane windshields. It is the thinnest, lightest and most impact-resistance of all lens materials, and comes with a scratch resistant coating. Polycarbonates are also inherently good at filtering UV rays.
Selecting Lens Treatments
All of these materials can be treated to better protect your eyes, improve your vision, increase the durability of your lenses, and enhance appearance. Scratch-resistant coatings, ultraviolet light blockers, anti-reflectives, tints and edge treatments can be combined to meet your individual needs.
Scratch-resistant coatings - Plastics and polycarbonates are usually treated with anti-scratch varnish. The coating can be used on the front, back, or both sides of the lens.
Ultraviolet light blockers - While some materials are better than others at filtering damaging ultraviolet light, the only way to get 100 percent protection is with specific UV treatments.
Anti-reflective - Anti-reflective treatments (AR) have two purposes: eliminate the glare others see when looking at you, and eliminate reflections and glare that you experience when looking through your lenses. Together, these effects improve your appearance, comfort and safety. Users typically notice less glare from fluorescent lighting, computer screens and car lights. Contrast and detail are improved, reducing eye strain and headaches. AR-coated lenses used to attract more dust and show dirt and smudges more easily than non-AR coated lenses. But today, many AR treatments include a final coating that better repels dust and dirt and makes lenses easier to clean.
All-in-ones - The newest option is an "all in one" coating, combining the advantages of scratch-resistance, anti-reflection, and smudge resistance to offer the ultimate lens treatment.
Tints - Lenses can be tinted or colored for a variety of reasons. Most often tints are intended to filter out some light, as in sunglasses. The right tint for you will depend upon your vision needs and your sensitivity to light.
Clear - Lenses with no tint allow the maximum amount of visible light to reach the eye.
Color - Lenses are available in virtually every color imaginable. The color chosen can be for sun protection, personal style and to enhance sight. Sun protection colors are usually grey or brown. Polarized lenses eliminate the most reflective glare and are recommended for driving and around water.
Gradient - Gradient lenses have a darker tint on the top and gradually get lighter toward the bottom of the lens. They are usually chosen for appearance and sun protection.
Photochromic - These lenses are clear when indoors and dark when in the sun. The tint is activated in only a few moments. They are convenient and comfortable, minimizing the need for both clear and sunglasses.
Edge treatment - Lenses are cut to fit the shape of the frame. This leaves a frosted, rough edge. This is especially noticeable with higher prescriptions that result in thicker lenses. The edges can be polished to provide a finished look, or left with the frosted look.
Sources
"Polycarbonate," L'Opto85, Mar 1997, pp 23-25
Benjamin, WJ, ed. Borish's clinical refraction. Philadelphia, PA: WB Saunders, 1998, pp. 868-76
Fowler,C. "Why Not Make Your Own Varifocal Lens?" Optician, 1998, vol. 216, no. 569, pp. 18-20
Malaval, C, ed. "Seeing the World Past," Essilor, Paris: Creapress, 1997, pp. 42-29 & 70-89
"Markets," SPC, 1999, vol. 99, pp. 3-6 & 31-32
"Markets," SPC, 1999, vol. 102, pp. 3-6
Mercier, J-L, Miege, C, LeSaux G, Chauveau J-L. "The Design Loop for Progressive Lenses," Points de Vue, Apr, 1996. pp. 22-27